In the Info settings, you can control the settings for the Info view. To access the settings, click File > Settings > Info.
Restore Default Settings
To restore the settings in this dialog to default values, click the Restore Default Settings dialog and confirm your action. This action affects the settings in the dialog. Note that this action can't be undone.
You can select to use the Advanced Info view or show or hide the IFC Value Types column. This settings option is available in v9.13.4 and newer. By default, both options are on. To learn more about the Info tool and view, see here.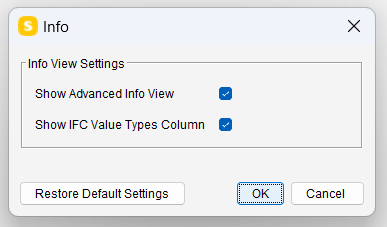 Show Advanced Info View:
When selected, the Info view structure will have three main tabs: BIM Data, IFC Standard Properties, IFC Standard Quantities, Other Properties, and Custom. Each tab has additional tabs under it. This advanced view offers a more concise and user-friendly structuring of the data in the Info view.
Show IFC Value Types Column:
When selected, the IFC Value Types column will be shown next to the Value column in the Info view:

The IFC Value Types column displays the type of data being used (INT, CHAR, BOOLEAN, DATE, etc.), so you can easily identify the type of data being used and ensure that it is correct.