This article describes the default layouts included in the different Solibri products.
Solibri has seven default layouts: File, Model, Checking, Communication, Information Takeoff, BCF Live Connector and Score. The layouts include default views, but you can add more views to the layout if needed. Some extensions or roles may add further Layouts to the interface.
Note
While all the layouts are included in Solibri Office, Solibri Site and Solibri Anywhere, please note that not all of the functions in Solibri Office are available in Solibri Site or Solibri Anywhere.
The article covers the following topics:
Related articles:
On the File layout, you can access, for example, recent items, Roles, Solution Center, Settings and Help. When Solibri starts, the Recent menu is shown by default. In the Recent menu, you access the 25 most recent projects/models and locations. If you are a Super User, Ruleset Manager will also be visible.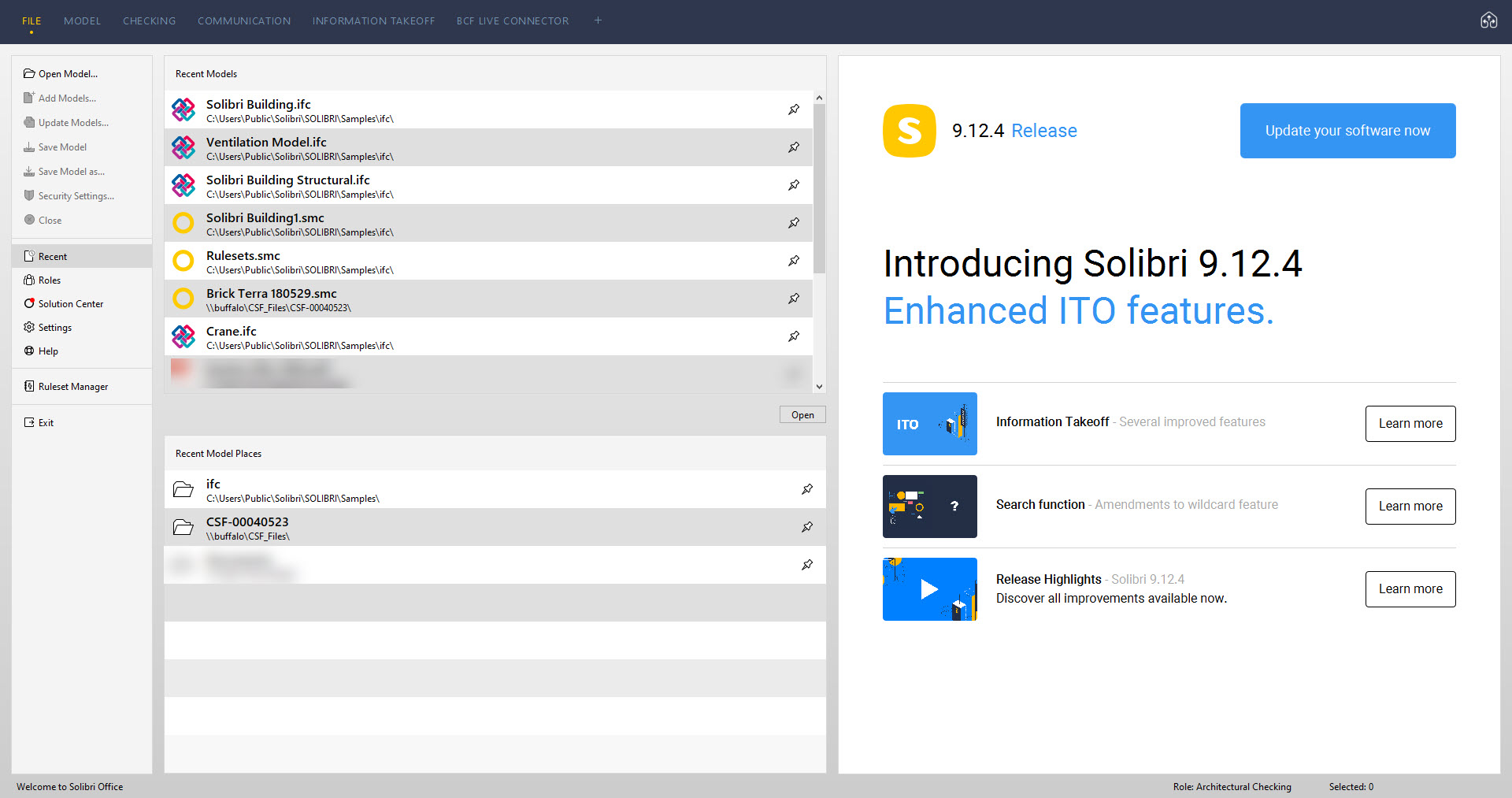 In the Help section, you can see the application, system and 3D information. You can copy the information to your clipboard and paste it to a support ticket. You can also check for updates and borrow a license.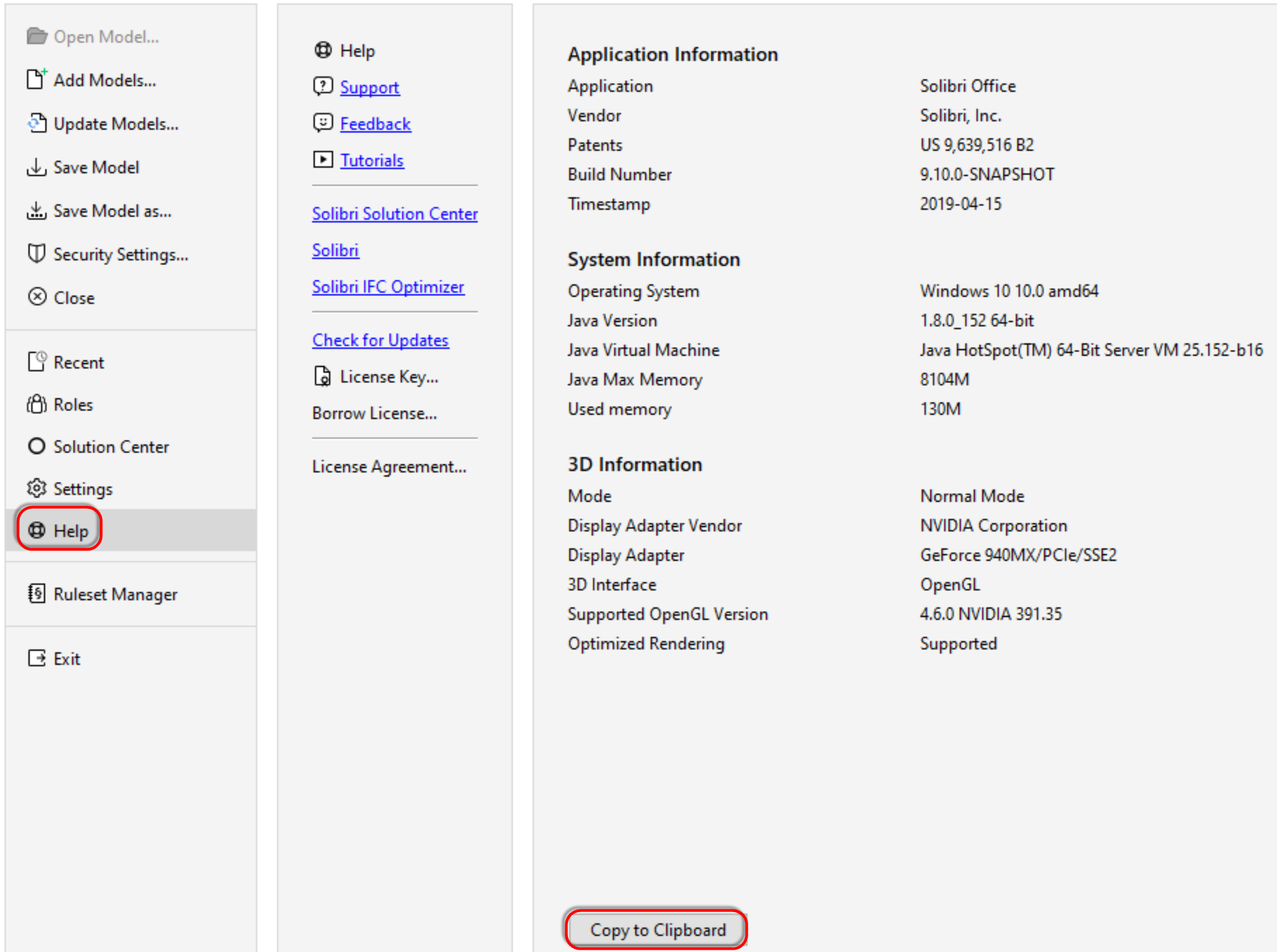 The views on the Model layout contain the basic tools for navigating and visualising the model, as well as reading the model data. The Model Tree view shows the structure of the model in a tree hierarchy from project level down to component level. The Info view shows the detailed properties of a selected component. The 3D view shows the geometry representations of the model, allows to navigate within the model, and do visual markings and notes.
Default views: Model Tree, Info, 3D.
On the Checking layout, you can check the model or selected components against rulesets and rules and inspect the results. You can also create issues for communication.
Default views: Checking, Results, Results Summary, Info and 3D.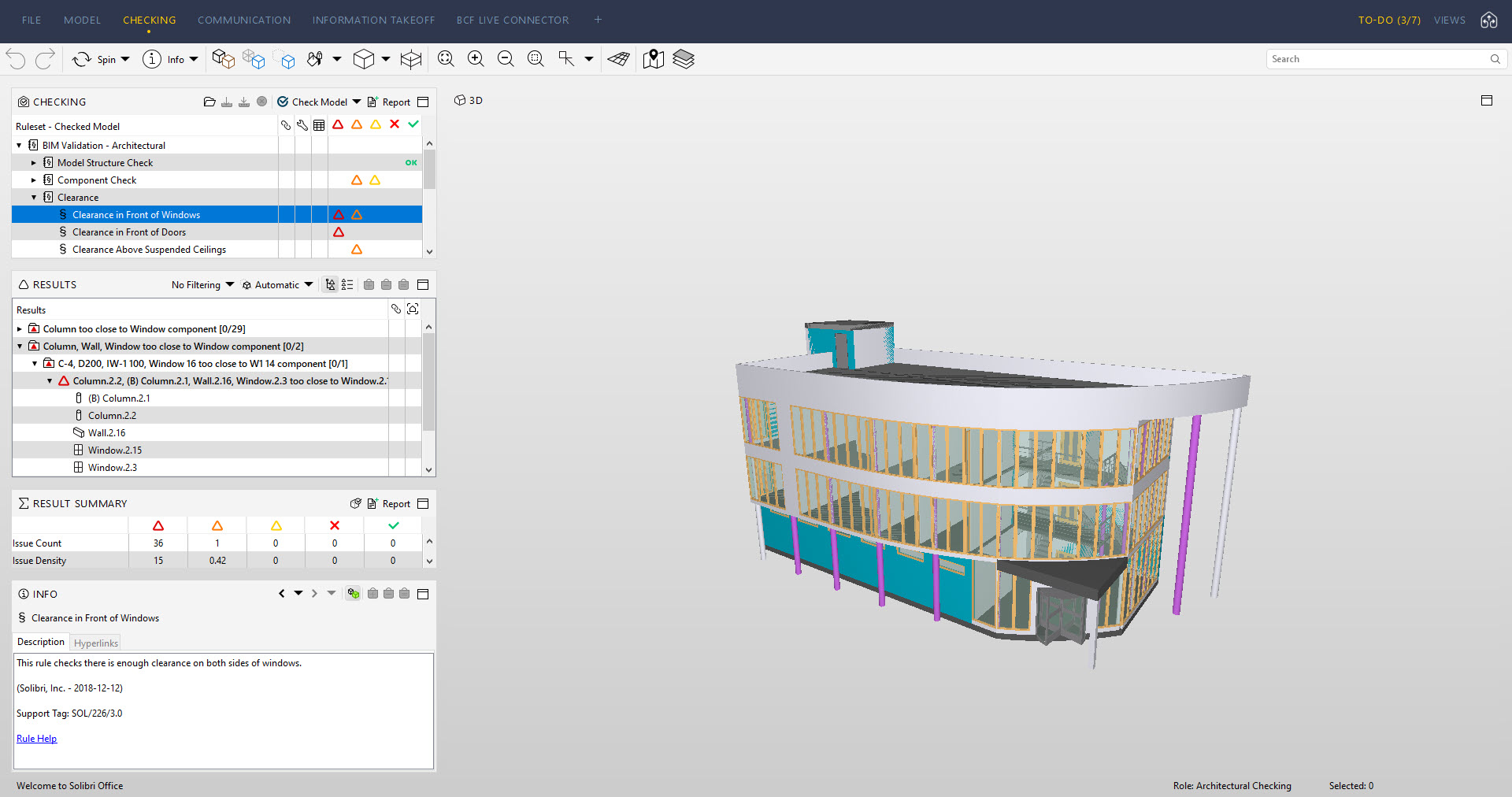 On the Communication layout, you can create presentations and coordinate issues to other stakeholders.
Default views: Presentations, Issue, Issue Details, Issue Sorter and 3D.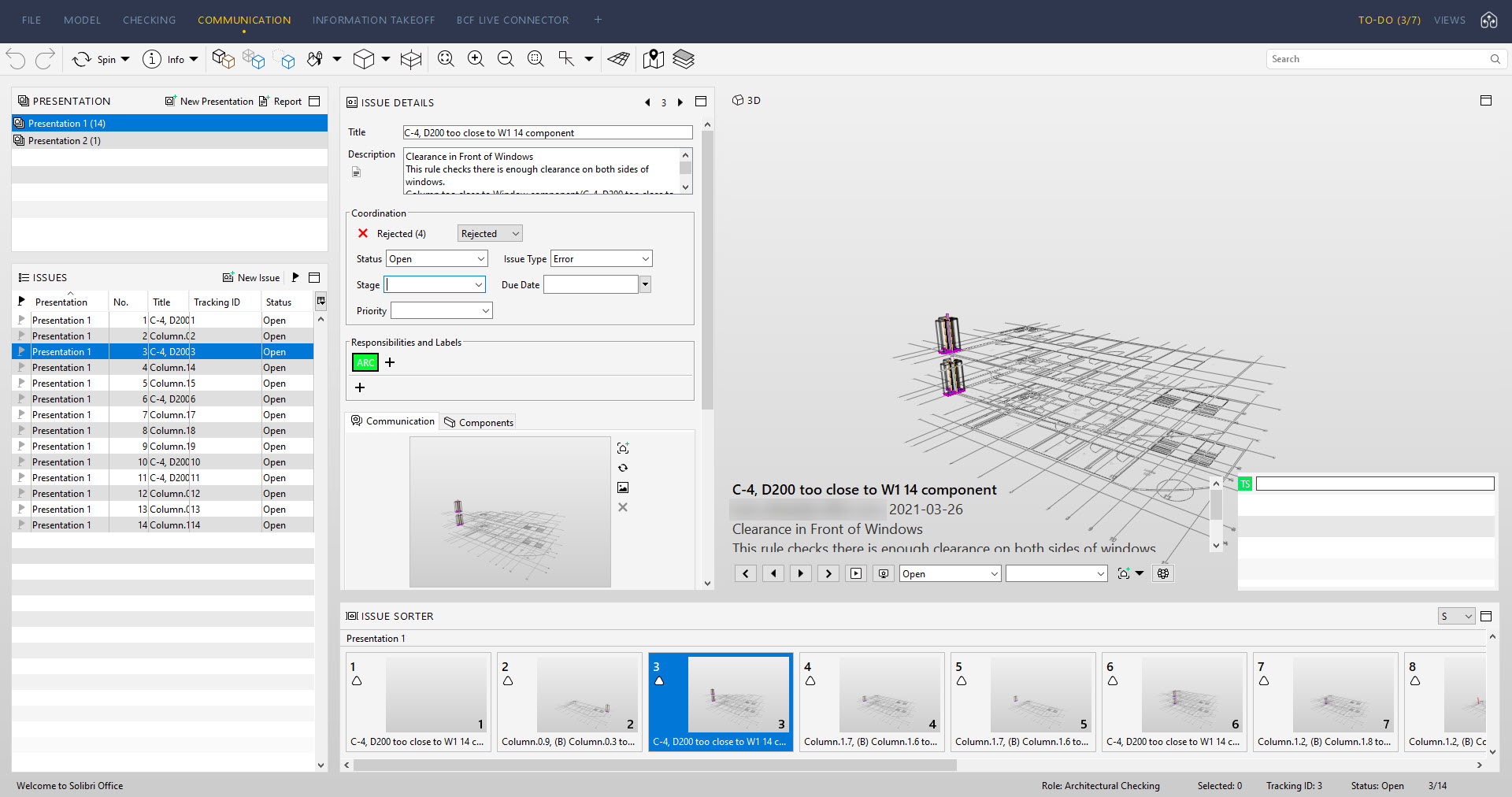 In the Information Takeoff layout, you can extract quantities and other information from the model.
Default views: Model Tree, Classification, Selection Basket, Info, 3D and Information Takeoff.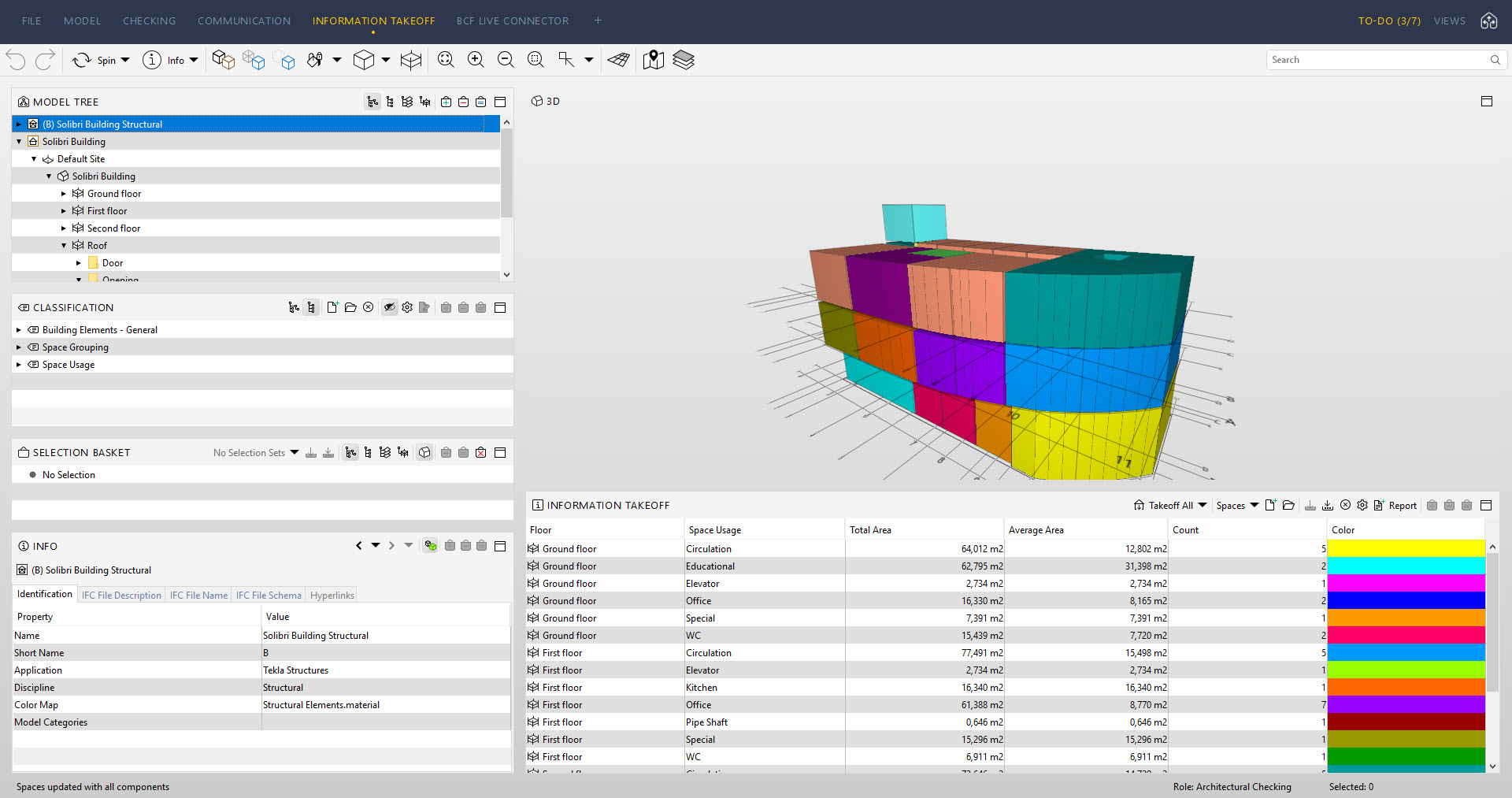 In the BCF Live Connector layout, you can connect to a project on an issue management platform, sychronize the issues and edit them in Solibri. Note that the BCF Live Connector is available in Solibri 9.12.0 and newer.
Default views: BFC Live view, Live Issue Details and 3D.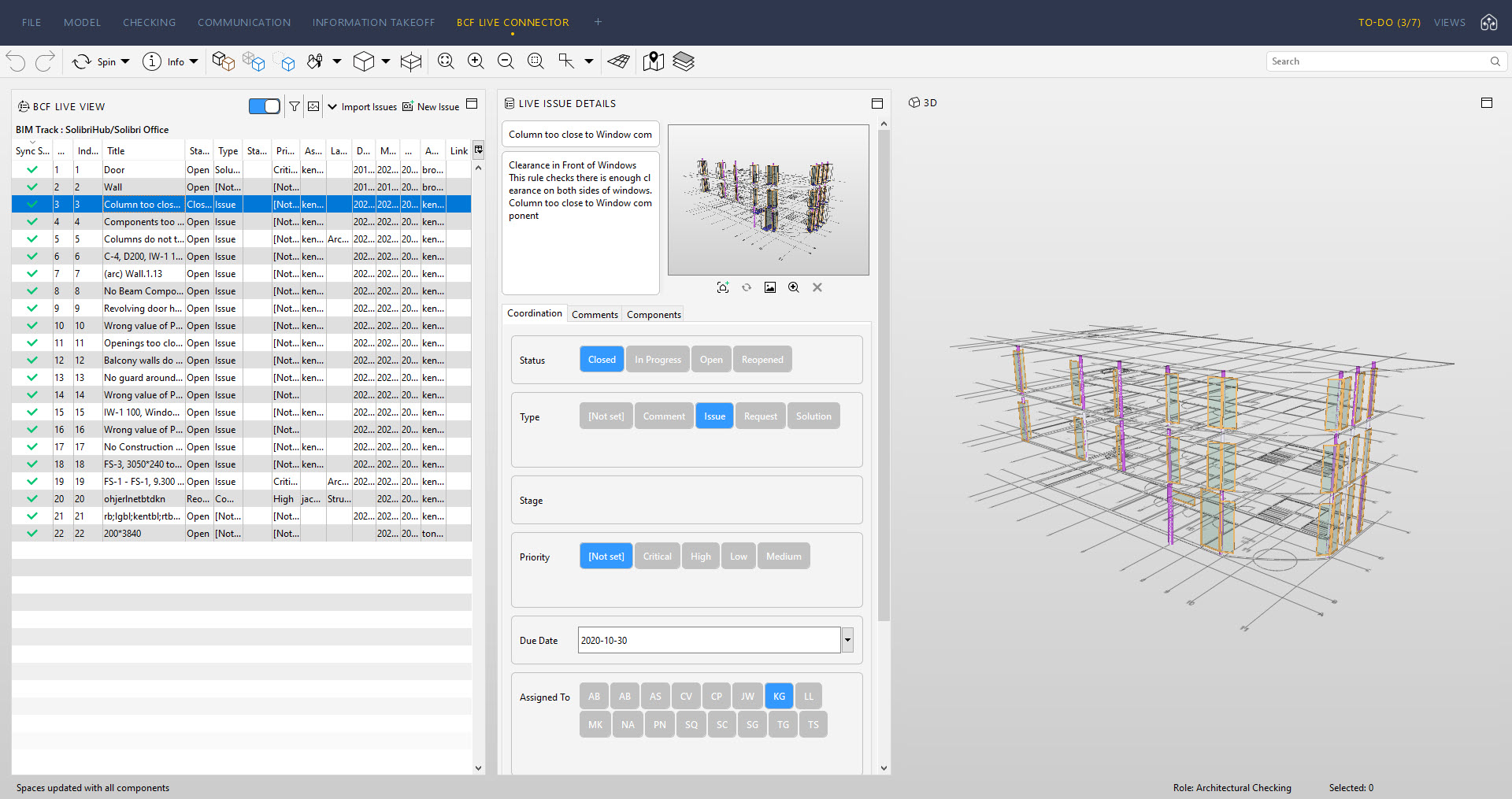 Solibri Score offers you an easy way to better understand the scope of the quality assurance that has been performed on the project. You can learn more about Score here.
Default views: Checking, Score and 3D.