This article describes what roles are in the Solibri environment and lists the pre-configured roles delivered with the installer, along with the descriptions and associated resources.
The article covers the following topics:
Related articles:
A role in Solibri provides a pre-packaged environment loading and allowing easy access to resources that are required by the company/individual to carry out their role in model checking/quality assurance.
The role contains a set of pre-configurable resources, which include rulesets, classifications, information takeoff definitions. It's also possible to predetermine the screen layouts that the users will see when adopting a specific role. Generally, once organisations have set up their workflows and created their own resources, consistency can be controlled by ensuring that latest company resources are deployed through roles.
To view and edit roles, click File, then Roles. The Roles window opens. If you have set a default role, that role will be opened, and you can see the resources related to the selected role: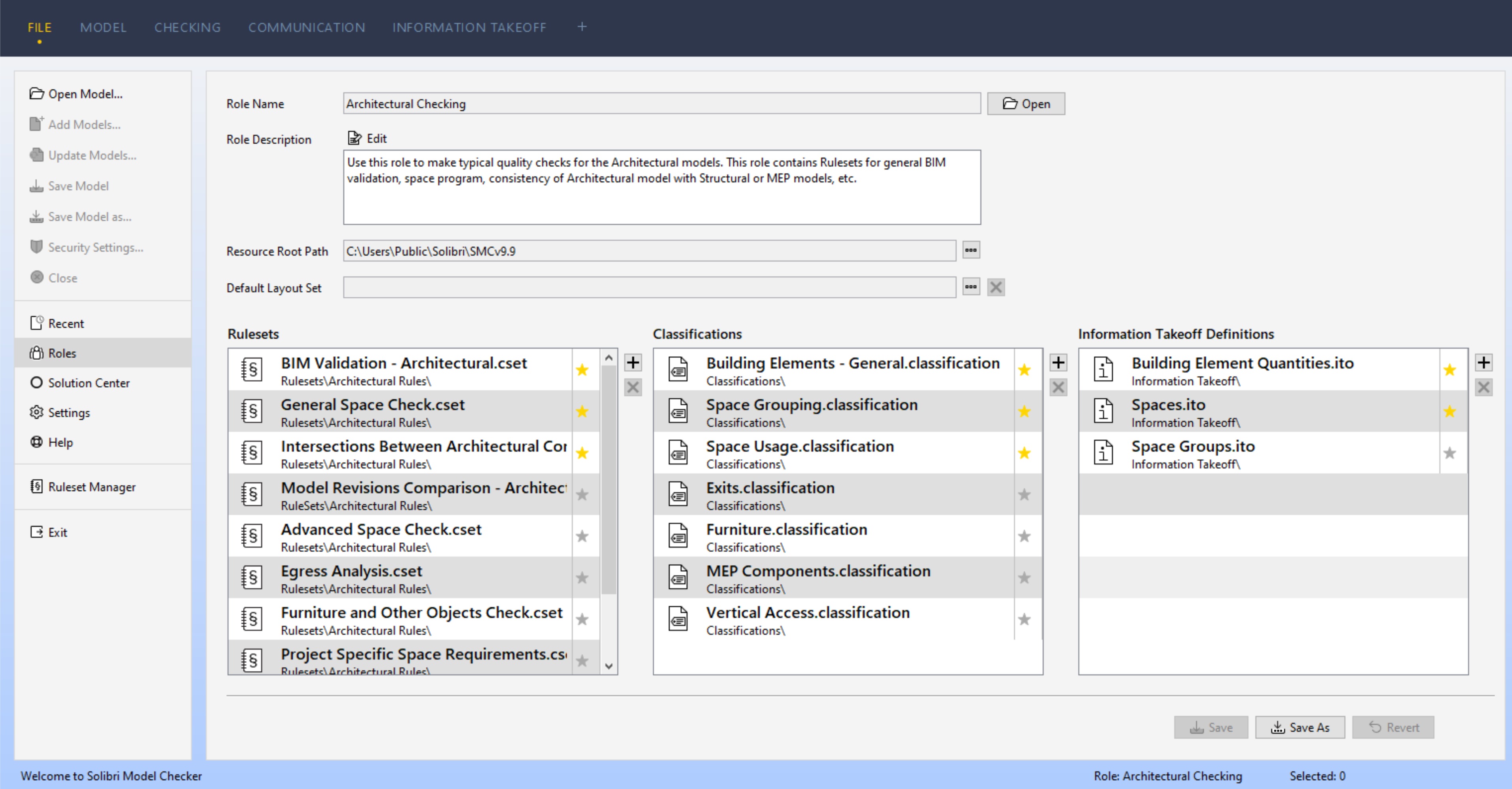 Tip
If a role has been set, you can see it in the lower right corner of the status bar.
Notice
If you open a role in the Roles window, that role will be set as your new default role. For more information on how to select a role, see Selecting a Role.
The Solibri installer includes a list of predefined roles which you can use. The roles include a set of resources, such as rulesets, classifications and ITOs. You can create your own role based on these example roles by editing the role and saving it with a new name.
Table 1. Installer roles
Role name

Role description

Classifications

ITOs

Rulesets

Architectural Checking

Use this role to make typical quality checks for the Architectural models. This role contains Rulesets for general BIM validation, space program, consistency of Architectural model with Structural or MEP models, etc.

Space Grouping

Space Usage

Vertical Access

Exits

Furniture

MEP Components

Building Elements - General

Building Element Quantities

Spaces

Space Groups

Model Revisions Comparison

General Space Check

Egress Analysis

Project Specific Space Requirements

Structural versus Architectural

MEP models and Architectural model

Advanced Space Check

Furniture and Other Objects Check

Intersections Between Architectural Components

BIM Validation - Architectural

BIM Coordination

Use this role to check consistency of models from various disciplines.

Space Grouping

MEP Components

Space Usage

Visualization

Building Elements - General

Federated Model Alignment

Visualization of Components Related to Space

Building Element Quantities

Structural Quantities

Structural versus Architectural

MEP models and Architectural model

MEP models and Structural model

BIM Validation-Structural

Intersections Between Structural Components

BIM Validation - Architectural

Intersections Between Architectural Components

BIM Validation - Architectural

Only high quality models can be used in more advanced analysis like QTO, Egress Analysis, Building Code Checking, etc. Use this role to validate general quality of Architectural models. This contains Rulesets for QA/QC and selected Information Takeoffs. It is strongly recommended that these checks are performed before any advanced analysis like QTO, Egress Analysis, Building Code Checking, etc. since the dependability of the results, and reliability of information depends on the quality of the model.

Space Grouping

Space Usage

Building Elements - General

Building Element Quantities

Space Groups

Spaces

Model Revisions Comparison - Architecture

General Space Check

Advanced Space Check

Intersections Between Architectural Components

BIM Validation - Architectural

Project Specific Types and Names

BIM Validation - FM

Use this role to check and report efficiency and spaces in the building.

Space Grouping

Space Usage

Building Elements - General

Project Specific Space Requirements

Building Efficiency

Intersections Between Architectural Components

General Space Check

BIM Validation - MEP

Use this role to validate general quality of MEP models. This role contains Rulesets for QA/QC and selected Information Takeoffs. It is recommended that these checks are performed prior to any further analysis since the dependability and usability of th results, and reliability of information depends on the quality of the model.

MEP Components

Space Usage

Space Grouping

Building Elements - General

Flow Terminals and Valves

Pipes and Ducts

BIM Validation - MEP

MEP models and Architectural model

MEP models and Structural model

Dimension Values MagiCAD

Model Revisions Comparison - Building Service

Intersections in MEP Models

BIM Validation - Structural

Use this role to validate general quality of Structural models. This contains Rulesets for QA/QC and selected Information Takeoffs.It is recommended that these checks are performed prior to further analysis since the dependability and usability of the results, and reliability of information depends on the quality of the model.

Building Elements - General

Structural versus Architectural

Model Revisions Comparison - Structural

BIM Validation-Structural

Intersections Between Structural Components

Reinforcing Bar

Energy Analysis

Use this role to check that the model can be used in Energy Analysis (by some third party software). The role includes a Ruleset for pre-check a model before energy analysis.

Space Grouping

Building Elements - General

Pre-check for Energy Analysis

Example Rules

Use this role to explore different ways to use rules. You may also use this when you want to test rules. Note that this role should not be used as such in standard QA/QC process.

Building Elements - Uniformat

Exits

Furniture

MEP Components

Space Usage

Vertical Access

Space Grouping

Building Elements - General

#1 General Intersection Rule

#11 Model Should Have Components

#111 Floor and Gross Area Analysis

#132 Space Area

#161 Distances Between Spaces

#162 Spaces Must Be Included in Space Groups

#172 Fire Walls Must Have Correct Wall, Door, and Window Types

#175 Space Group Containment

#176 Model Structure

#179 Escape Route Analysis

#19 Spaces Must Have Enough Window Area

#190 Fire Compartment Area Must Be within Limits

#191 Spaces Must Be Included in Fire Compartments

#202 Space Validation

#203 Required Property Sets

#206 Model Comparison

#207 Accessible Ramp Rule

#208 Accessible Door Rule

#209 Free Floor Space

#21 Components Must Have Unique Identifier

#210 Accessible Stair Rule

#211 Accessible Window Rule

#212 Building Envelope Validation

#213 Shelf Running Metre Rule

#215 Allowed Profiles

#216 Wall Validation

#218 Element Hole Validation Rule

#220 Floor Distance

#221 Wall Distance

#222 Component Distance

#223 Structural Components Fit in Architectural Ones

#224 Architectural Components Are Filled

#225 Number of Components in Space

#226 Free Area in Front of Components

#228 Floor Names Must Be Consecutive

#23 Components Must Touch Other Components

#230 Property Rule Template with Component Filters

#231 Comparison Between Property Values

#36 Space Requirements

#37 Total Space Area on Each Building Floor

#38 Space Count on Each Floor

#9 Property Values Must Be from Agreed List

#171 Component Property Values Must Be Consistent

#232 Manual Checking Rule

#233 Allowed Beam Intersections

#234 Component Inside Component

#235 Relative Number

#236 Horizontal Structures must be Guarded against Falling

Small Size Ducts That Do Not Intersect With Architectural Walls

Small Size Ducts That Intersect With Architectural Walls

Stage Of Model Design

Geometric Validation

Use this role to check:

clash detection Architecture, Structure, MEP

conformity of Architecture and Structure

reinforcement inside in Structure components

Important

The model disciplines must be checked at the beginning and, if necessary, corrected again in Solibri. More info here.

The classifications were created directly with the Ifc language and are based on Ifc2x3 and Ifc4. Please select which type of classification you want for the MEP components (Ifc2x3 or Ifc4).

Architectural Discipline - Load Bearing

Architectural Discipline

Covering

Electrical Components (Ifc2x3)

Electrical Components (Ifc4)

HVAC Components (Ifc2x3)

HVAC Components (Ifc4)

MEP Discipline

Other Elements

PlumbingFireProtection Components (Ifc2x3)

PlumbingFireProtection Components (Ifc4)

SharedBuildingServices Discipline (Ifc2x3-Entities)

SharedBuildingServices Discipline (Ifc2x3-Types)

SharedBuildingServices Discipline (Ifc4)

SharedFacilitiesElements Components

Structural Components

Structural Element

Clash Detection - Intersections Architectural components

Clash Detection - Intersections Architecture vs MEP

Clash Detection - Intersections Inventory Components

Clash Detection - Intersections Inventory vs Architecture

Clash Detection - Intersections Inventory vs Structure

Clash Detection - Intersections Other Components

Clash Detection - Intersections other Elements vs Architecture

Clash Detection - Intersections other Elements vs Structure

Clash Detection - Intersection MEP Components

Clash Detection - Intersections MEP vs Structure

Clash Detection - Intersections Structural Components

Conformity of Architecture and Structure

Reinforcement inside in Structure components

Get Started

This role is aimed for new Solibri users and includes pre-configured rules which you can use out of the box. Use this role to explore and test the different ways of using rules. Note that this role should not be used as such in standard QA/QC process.

Quantity Take-off

Use this role to check if an architectural model can be used for Quantity Takeoff. This contains Rulesets for QA/QC and selected Information Takeoffs.

Space Grouping

Space Usage

Furniture

MEP Components

Visualization

Building Elements - General

Building Element Quantities

Spaces

Flow Terminals and Valves

Cost Report

Space Groups

Structural Quantities

Curtain Walls

Visualization of Components Related to Space

Quantity TakeOff

Intersections Between Architectural Components

BIM Validation - Architectural

General Space Check

BIM Validation-Structural

Intersections Between Structural Components

Intersections in MEP Models

BIM Validation - MEP