Information Takeoff (ITO) allows you to see components in the 3D view and analyse quantities, properties and locations at the same time. In ITO, you can use templates created by Solibri to report information such as quantities from the model.
Solibri includes a number of pre-defined ITO definitions, but you can also create new ones based on your individual requirements. You can save ITO definitions externally and use them in other projects or machines. Each ITO definition can have one or several different Excel reporting templates to create the reports formatted the way you require.
The Information Takeoff view is located in the Information Takeoff layout. The view includes a table of data and tools for ITO handling.
The columns of the ITO table are defined by the active ITO definition. If you click a row in the ITO table, the components are visualised in the 3D view: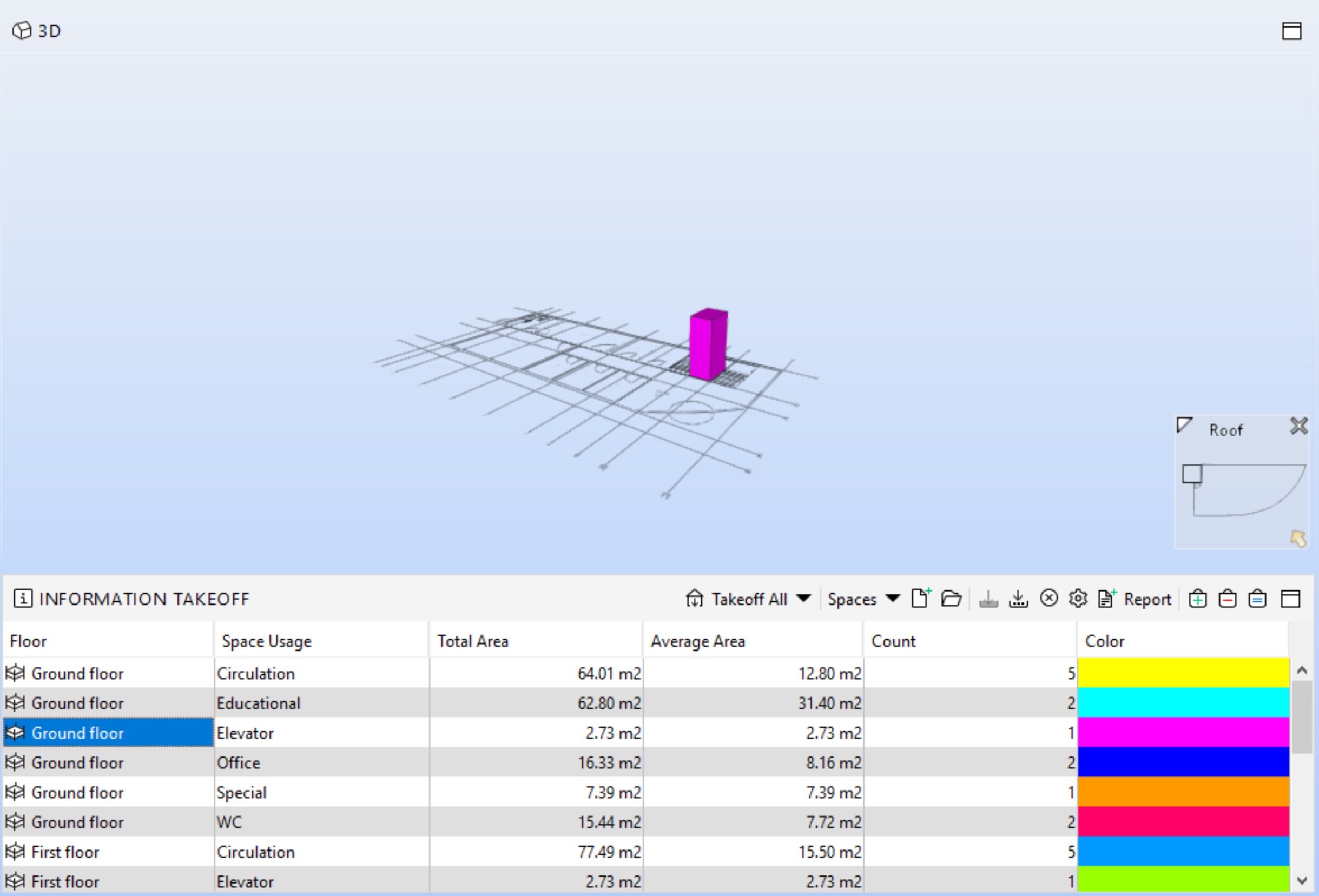 The color of the component is defined by the Color column in the ITO. If this column is not present, default component colors are used. You can also set the color with a certain column value.
The Information Takeoff view toolbar has the following tools:
ITO table update options:

Takeoff All: Updates the current Information Takeoff table with all components of the model which pass the definition filter.

Takeoff Selected: Updates the Information Takeoff table with components from the Selection Basket. You need to first add the components to the Selection Basket.

Takeoff All ITOs: Updates all Information Takeoff tables included in the model with all the components in the model.

ITO definition selector: Use the drop-down menu to select the active ITO definition

ITO definition handling tools (Create, Open, Save, Save As, and Close): You can create a new ITO definition, save changes to the ITO definition, save the modified ITO definition with a new name and close the active ITO definition.

Edit ITO definition (): Edit the attributes of the active ITO definition

Report: Create spreadsheet reports from ITO definitions

Selection Basket tools: You can pick components from the table and set them to the Selection Basket.
Tip
To search similar components or find the same value, right click in the Information Takeoff view and select Show Equal from the context menu.