Classification is a way to add component information to a BIM file and filter the view (which can be passed to rules or ITOs). Classification allows you to colorize components based on their classification names: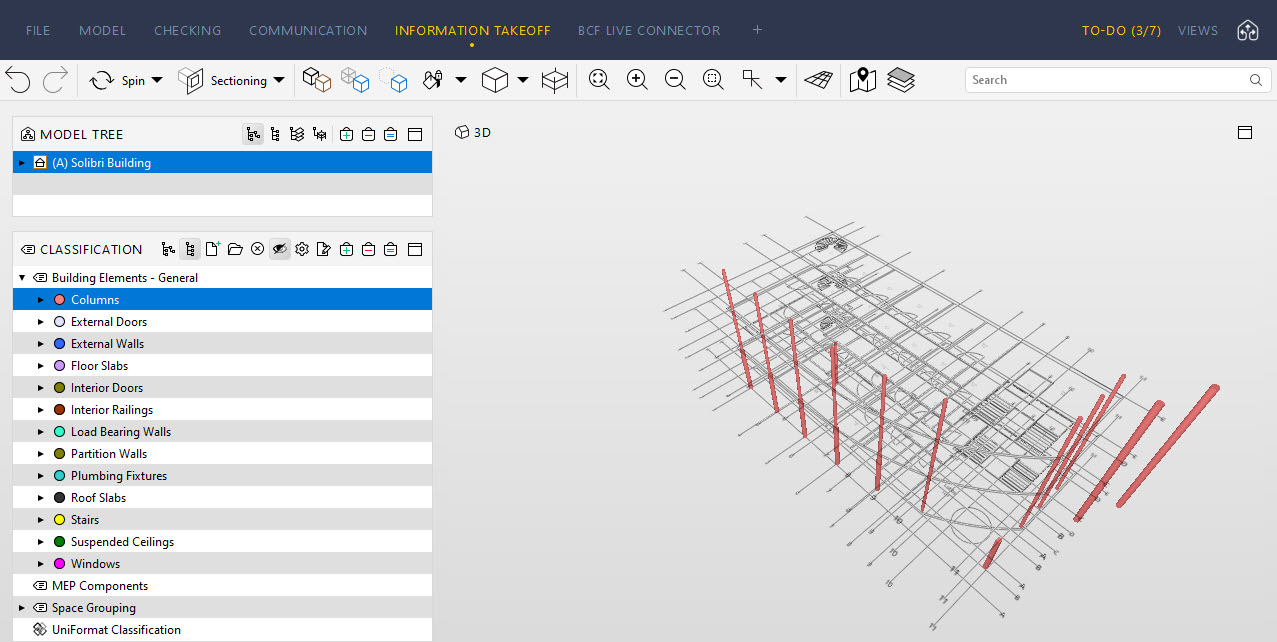 This article covers the following topics:
Solibri supports ifcClassification. IFC classifications are part of the Industry Foundation Classes (IFC) standard and provide a standardized way to organize and categorize building components and materials, making it easier to manage and share information across different software platforms.
Using IFC classifications can provide several benefits, including:
Improved data consistency and accuracy

Enhanced interoperability between different software applications

Better communication and collaboration among project stakeholders

Streamlined workflows and reduced errors

Improved data management and analysis
A classification can be used to:
provide a criteria-based or manual list which can be used to categorise elements to be ready for rules.

provide another breakdown structure for the model which is similar to the one provided in the model view but based on data in the model. This can also be colour-coded differently from the original model.

provide a pick list against which you can check values, i.e. ensure that all values have a specific Uniclass value. This also makes checking easier, for you only have to check that the relevant elements in the classification are defined.

evaluate the model using data which is colour-coded based on the data itself rather than the original model colours. Visualising the data differently makes it easier to view and understand.

add additional data to the elements of a model: you can add a new field, use Excel to import the data and associate it to the model elements.

use the values from another classification to have different levels of granularity or different purposes, all based on the same set of data.
Solibri includes default classifications used in default roles, such as:
Furniture: furniture component classification

Building elements (general)

Vertical Access: stairs, elevators, ramps

Space Usage: different types of space

Space Groups: used when specifying space groups.

Exits: specifying exit doors for egress
Each role has its own classifications based on the rulesets and ITOs of the role. For more information on roles and their resources, see here. You can also create your own classifications either by editing an existing classification and saving it with a new name or creating it from scratch yourself.
Tip
In Solibri v9.13.2 and newer, you will get a notice about lost links from one classification to another classification, ITO or rule when you change the classification or the classification name. These links can now be restored automatically with your consent. In previous versions, the link is lost and you have to manually relink the classifications when you rename them.
Tip
In Solibri v9.13.4 and newer, classifications with a link to model short name, discipline or category are automatically updated when the model short name, discipline or category is changed. In previous versions, you need to manually open each classification to update the reference.
By default, the Classification view is located in the Information Takeoff layout. You can add the view to any layout using the Views list.
You can view classifications in two different hierarchies:
Containment ():

Classification ():
The other Classification view tools are:
| Icon | Functionality |
| --- | --- |
| | Create New: Create a new classification |
| | Open: Open classifications |
| | Duplicate classification(s): Creates a copy of a previously created classification. You can also duplicate multiple selected classifications. Note that the same functionality is available in the context menu, when you right-click a classification. Available in v9.13.3 and newer. |
| | Close: Close the selected classification(s) |
| | Visualisation on/off: Visualises selected classifications or components in the 3D using colours defined in the classification settings. |
| | Classification Settings: Open classification settings for the selected classification to edit the classification rules and other information. |
| | Manual classification |
| | Selection Basket tools: You can pick components from the table and set them to the Selection Basket. |