Rule ID: SUK/1002/v1.0
This article describes the Fire Stopping Identity Rule that has been developed by Solibri UK Ltd as part of the BIM Coordination + Library.
The rule is available for Solibri Office 9.13.1 or later via a Solibri Extension, which can be downloaded from the Solibri Solution Center.
The article covers the following topics:
Important
The parameters in this rule must be defined by the user to give meaningful results.
The rule is used to identify where service penetrations occur with compartmentation walls and floors along with an optional check for coverage by a fire seal for those service penetrations.
This rule can be used for planning purposes at different stages of the project in determining where service penetrations occur, how many, and whether there is a corresponding builder's work in connection (BWIC), opening, or fire seal assigned to the services.
This rule detects all service penetrations through compartmentation walls and floors. If a panelized floor system exists, a user-defined distance between those panels is considered to group them into a pseudo slab object. This object is then used, rather than the individual compartmentation components, to check for penetrations. This ensures penetrations through potential gaps or cutouts that reside between panels are not missed in the check. Where openings are created that produce no physical void geometry both in walls and floors the rule will still detect these instances, i.e. where no clash exists between services and either the compartmentation or the void geometry.
The rule first finds all penetrations of service components with walls and slabs through their corresponding filters, while ignoring any partial penetrations where the service does not run completely through one side of the wall or floor and out the other.
Fire seals can be optionally be checked such that any service penetrations that do not penetrate a corresponding fire seal in the same location can be identified. Depending on the result options in the rule, missing fire seals are flagged as critical issues, where present they are flagged as low severity results.
The service penetrations are categorized by the compartmentation wall or floor they reside on. Where multiple penetrations occur, they are sorted spatially along the length of the compartmentation component to help analyze their counts and collate them for fire stopping by easily grouping the results next to one another.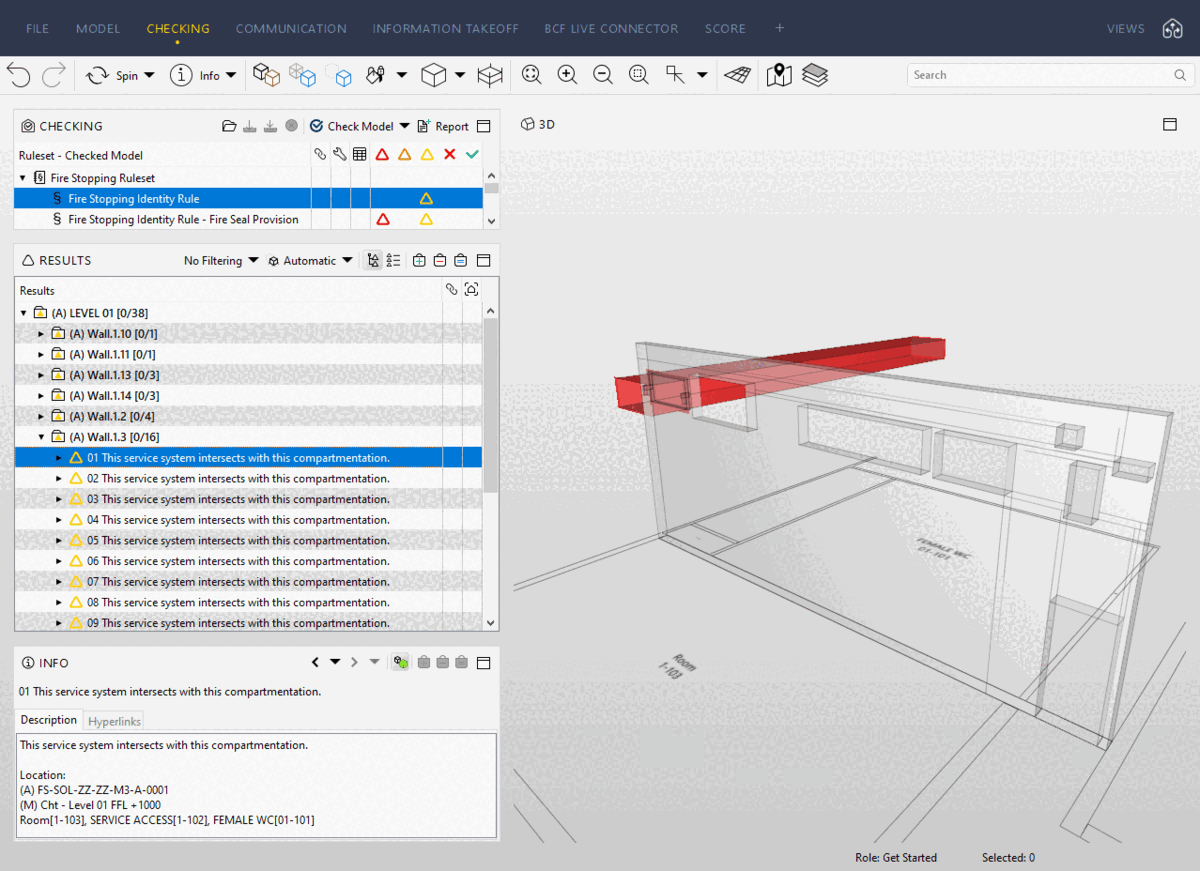 In the Rule Parameters view, you can define compartmentation walls and floors, services, and optional fire seal coverage.
Tip
Although this rule does not necessarily require the user to use a classification for each of the filters, it is a good idea to use one as indicated for the services in Rule Parameters as they will provide the following:
Help to structure the model geometry allowing easy identification and visualization in the classification of what will be checked

In subsequent fire stopping rules any services or fire seals will require classification values to interact with the FireStoppingRequirements.xlsx
Walls filter: The parameter table defines the compartmentation walls to be checked for service penetrations.

Floors filter: The parameter table defines the compartmentation floors to be checked for service penetrations.

Floor Distance: A distance value can be set so that floor components closer to one another than this value have their footprints combined to become a pseudo floor that is checked against service penetrations.

Services filter: The parameter table defines the services components that will be checked for penetrations that run through compartmentation components.

Check for fire seal coverage: Activate check box to check where service penetrations exist without fire seals.

Fire Seals filter: The parameter table defines the fire seal components assigned to service penetrations that should reside at those locations.

Result Options: three result options are available to filter the results

Show both failed and passed results

Show failed results

Show only passed results
The rule results are arranged with two levels of categorization. At the top level, the rule categorizes compartmentation that have service penetrations by the federated floor that the compartmentation resides on.
Results showing hierarchical breakdown of floor level and number of service penetration per compartmentation wall of floor
Below this category, the service penetration results are categorized by the compartmentation wall or floor component they penetrate. The number of issues for each compartmentation is related to the number of penetrations. Results are sorted across the axis of the compartmentation to allow them to be easily grouped based on their proximity to each other.
When the check for fire seal coverage is disabled:
When the check for fire seal coverage is enabled:
Critical () severity results are listed for service penetrations that are missing a fire seal.

Low () severity results are listed for service penetrations that are covered by a fire seal.
Note
The results displayed are filtered by the Result Options selected showing either Critical and Low, Critical or Low.
Severity parameters:
In addition, you can specify the severity classes according to your preferences and priorities in the Severity Parameters dialog. For example, you can filter specific compartmentation or services penetration components to have critical severity results regardless of checking for fire seal coverage.